Elev8 Spring Box Camp
---
---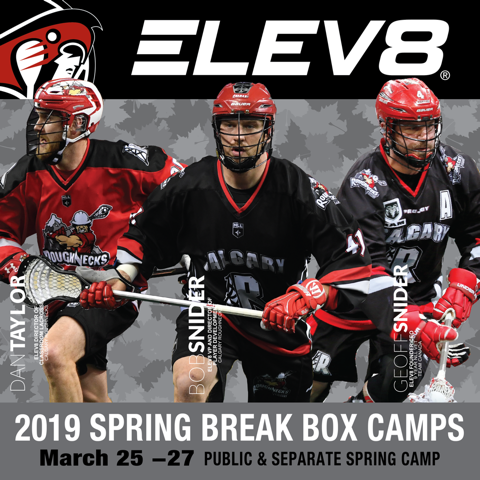 ---
ELEV8 Spring Break Box Camps are an opportunity for young athletes to learn straight from the Pro's while developing individual and team skills in a fun, structured and competitive environment. The goal of the camp is to provide athletes the tools to elevate their game, increase their knowledge, fundamental skills, and assist in getting to the next level of play.
Our coaching lineup includes National Lacrosse League Pro's, NCAA Graduates, and NCAA Committed Student-athletes.
Learn More and Register >> ELEV8 SPRING CAMP
DATES:
March 25-27, 2019 - Public and Separate School Break
TIME:
9:00 AM to 12:00 PM | Mini Tyke & Tyke
9:00 AM to 3:30 PM | Novice, Peewee, Bantam & Midget
LOCATION:
Calgary Soccer Centre
7000 - 48th Avenue SE | Calgary, AB
AGES:
Boys and Girls
Mini Tyke | Tyke | Novice |Peewee | Bantam | Midget
CAMP FOCUS:
- Fundamental stick skills (shooting, passing and catching in traffic, ball protection, ground balls).
- Individual offensive and defensive skills (body position, checking, shooting, dodging).
- Individual goalie coaching (positioning, defensive, and transition).
- Game experience in a fun and competitive environment.
- Individual player development from the best professional, international, and collegiate players in the game today.
PAST INSTRUCTORS INCLUDE:
Geoff Snider (9 Years NLL, 9 Years MLL, Team Canada Player and U19 Coach)
Bob Snider (Calgary Roughnecks, Team Canada)
Dan Taylor (Calgary Roughnecks, Denver Outlaws)
Curtis Dickson (Calgary Roughnecks, Team Canada)
Dan MacRae (Calgary Roughnecks, Victoria Shamrocks)
Plus more!
Learn More and Register >> ELEV8 SPRING CAMP